"I Used To Own An Austin-Healey"
By Loreen Wilhelmy
"I used to own an Austin Healey!" ...a motel mgr ...a waitress ...a Harley rider.
"I remember riding in one in Huntington Beach about 1963!" ...a truck driver.
"My father & I worked on it all during the week & drove it on weekends" ...a CHP Officer.
These and many other comments were typical of the conversations we shared with men and women who couldn't wait to share our joy and experience of driving an Austin Healey from San Diego, CA to Ocean Shores, WA. Those who couldn't or wouldn't or didn't come over to us to comment on our '63 BJ7, or one of the many beautiful Austin Healeys or Sprites with whom we traveled, just smiled and honked or waved or gave us a thumbs-up salute. The only unfriendly encounters we experienced in our 2655 miles of driving were a few German (initials go with My Bonnet) coupes that either didn't see us or didn't care about their cars and nearly took off our right front fender or cut us off on a freeway.
Driving almost the entire west coast of the U.S. may not seem very heroic to people who have driven their Healeys for years criss-crossing the U.S. but to a couple of neophytes like us it was a real act of faith! We thought that it sounded like fun but after a very HOT drive from the California Healey Week in Big Bear one Sunday in June, we weren't sure we could endure 10 days in a hot Healey. Then we did some serious research. We studied geographic maps, weather maps and the California Tour Book from the Auto-mobile Club of Southern California. Loreen resurrected her old travel agent skills and checked flight schedules, costs and restrictions and car rental companies and found out that we could go for less money (& obviously less fun) by plane and rented car. But of course that would defeat the whole purpose and mean going to the West Coast Meet÷ without a car. Two years ago we drove our Infiniti G20 to Kah-nee-ta, Oregon before we owned a running Austin-Healey. We had already experienced the fun and adventure of traveling with a herd of Healeys from San Diego to Oregon and knew that "getting there was more than half the fun". So we de-cided that if Roland could get the BJ7 back together and in reliable running condition, we wanted to do it in the Healey!
Over the next 3 weeks Roland managed to repair or replace every system, except the carburetor, while the engine was out being re-built. He found that working on the BJ7 was much simpler when he could stand where the engine used to be! He took it out for the 1-and 10-mile runs; he adjusted and tweaked and tuned and fiddled some more. Every time we thought that he had finally fin-ished, something else went wrong or stopped working. Was this an omen? Should we reconsider this folly?
At this point, Warren Voth said he'd drive his BJ8 along with us. Now there were 2 cars, 2 drivers and 1 navigator to worry about whether we'd make it. Motel reservations were coordinated, phone calls and email messages were exchanged with the Hawks in Arbuckle and the Lehmans in Windsor, CA to complete plans for meeting and driving together from California through Oregon to Washington. (We met the Lehmans in Windsor, the Hawks, Gary Anderson, Steve Cloyes, and Len Hartnett in Willets, and the Albecks and the Goughs in Eureka.) Up to 2 days before our scheduled departure, we were still guessing whether or not the car was really ready. Roland spent many late nights out in the garage "getting the car prepared" for the great adventure. Loreen was at the computer checking CNN Weather and the Weather Channel for the latest forecasts and working on the Internet to find the best routes to our motel in each city. We never got lost!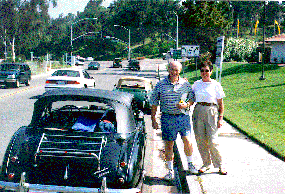 Finally, July 20 arrived and the car was packed and we were rolling down the road. Warren loaned us one of his Motorola FRS Talk-Abouts so that we could stay in touch with him while driving. We left Solana Beach at 10:00 a.m. We were really on our way!!! Our original plan to stop for lunch somewhere around Santa Barbara was way-y off. By the time we made it through Orange County (thank goodness for the Toll Road) to Long Beach, we and the cars were ready for a fuel stop. We bought fuel at the best price of our entire trip and had a pleasant lunch. Now we were fortified to fight the L.A. traffic and San Fernando Valley heat. Once out of Los Angeles County, we began to breathe a little easier÷ in more ways than one. Though the weather stayed in the 80s until we were north of Santa Rosa a couple days later, we really felt a measure of relief to be in less concentrated traffic.
At a turn off called Seacliff, we exited Hwy 101 to stop and stretch our legs. Just after we got out of our cars, a red convertible drove up and stopped. Two young (20-ish) women asked if we knew how to get to Hwy 1. They said that they were on their way to San Francisco. We told the girls that the freeway signs were clear and it would be easy follow them. I also suggested that they stop at a gas station along the way to buy a California map. They said, "We have one!" They pulled out a brand new map, still sealed in its plastic wrapper! That's when I asked them where they were from. When they said Israel, the scene became somewhat clearer: It was our im-pression that the young women saw the 2 sports cars getting off of the freeway and thought that perhaps they'd meet a couple young men. Boy were they surprised when they saw Roland and Warren and me! I took their photo and sent them on their way. We climbed back into our Healeys and headed to San Luis Obispo for our first night on the road.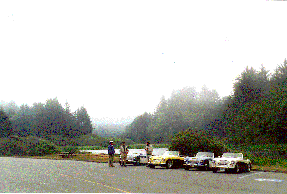 Armed with a Rand-McNally California Atlas and MapQuest driving instructions, we never had a problem finding our motels. How-ever, MapQuest didn't always give us the most expeditious route. Most of our sight-unseen motels were O.K. (One in Palo Alto on our return trip wasn't. It's now referred to as the "Motel from Hell"÷ don't know how the Auto Club could give it 2 dia-monds. The in-spector must not have seen the rooms!) Driving northward meant that the weather and scenery improved by the mile. Early mornings were often damp and blurred by fog but most days we had the opportunity to drive with our windows down and the back window unzipped. Even with the extra insula-tion that Roland added to the transmission hump and floorboard, my legs and feet were never cold. The only time that my feet had a problem was when the carpeting on the passenger side wouldn't dry out from the rain we had in Ocean Shores.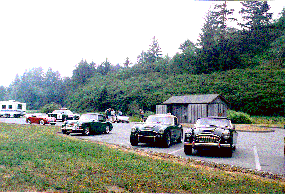 As we drove north beyond Arcata, CA we saw a California High-way Patrol car driving south and thought nothing of it. A few miles up the road we all pulled into a scenic vista point and noticed (the same?) CHP car heading north. Within 5 minutes that (same?) CHP car was driving into the parking lot where we were stretching our legs and talking. What did he want? He couldn't wait to tell us sto-ries of his father's Austin-Healey and how much he enjoyed seeing all of our cars on the road! Most days we drove about 280 - 300 miles with a stop for lunch and a few stops for refueling and refreshing! The 6 cars that drove together from Willets to Ocean Shores and back to Eureka stayed pretty close to one another. It never ceased to amaze me how the more experienced drivers like Roger or Donna Hawk or Steve Cloyes could spot another Healey in enough time to lead the rest of us into a gas station or parking lot.
In Oregon a driver doesn't pump his/her own fuel. It is the state law that an attendant must at least insert the gas nozzle into your car's tank. But when 6 - 10 Healeys arrive all at once, we often over-whelmed the 1 or 2 attendants on duty and they overlooked the con-cerned car owners pumping their own fuel. Sometimes, though, the pumps didn't turn off when the fuel reached the neck of the gas tank and fuel would spill over. Yuck!! Some of the drivers learned not to rely on the automatic shut off. It was also risky to fill gas tanks to the top if the cars were going to sit overnight because in the morning often one found gasoline and fumes filling the boot.
Warren found that gas tanks "burp" too when overfilled. In his case, it was because the fuel hose didn't shut off early enough. He emptied his boot and tried to siphon out a few gallons of gasoline in the standard way. No luck; he couldn't get the gas can low enough to keep the siphon going. Then someone had a great idea: Disconnect the fuel pump and aim it into a container that would catch the gasoline, then turn on the ignition and "let her fly". It worked very well, so all Warren had to do is mop up the fuel in the well around the sending unit and remove the screws. Once he coated each screw with Hylomar and reinserted it, (and promised himself that he'd never again let his gas tank get "totally" full), he had no problem for the rest of the journey.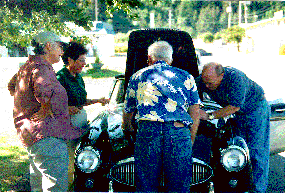 Somewhere between Eureka, CA and Newport, OR our car started to lose power. We warned Warren by walkie-talkie and he was prepared to stop with us to diagnose and fix whatever it was that was causing power loss and the smell of gasoline. The Lehmans were behind Warren (who was behind us) and they, too, joined us as we coasted to a stop under a convenient tree near the entrance to a mobile home park. We were the featured attraction for next 15 minutes while Roland cleaned the floats in the carburetor and solved the only mechanical problem we had during our entire journey.